One of the all time greatest sporting heroes in my eyes, who is still at the top of his game is Valentino Rossi.
Rossi is an Italian professional motorcycle racer and multiple MotoGP World Champion. He is one of the most successful motorcycle racers of all time, with 8 Grand Prix World Championships to his name.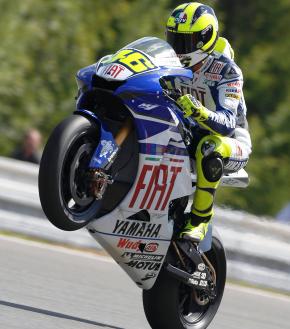 Motorbikes have been a passion of mine ever since I could get on one. My neighbour was a professional motorbike racer, and I used to help him when I was 7 with the mechanics of the bike. Slowly I developed my own passion for the amazing machines, and I have ridden every type of bike you can. My previous bike was a Yamaha R1, but I have just bought the new MV Aagusta 312 R. I test rode the 1198S Ducati, the new Yamaha R1 and the Honda CBR 900 Fireblade, however the MV stole my heart. Having owned many Ducati's in the past, and owned many Japanese bikes, the natural progression seemed to be the best of both worlds. Italian looks, Japanese speed. I can't wait to get her out on the track in May and fulfill my need for speed.
I regularly take part in track days, as I love the rush of the open track, the commoradory amongst bikers, and the thrill of pushing my limits in a safe environment. Because of my current skill level, I can claim the famous 'knee down position', and I can't wait to try it on my new MV.
Enjoy this video of Rossi, and hopefully soon I'll get a video up of me on the track!
Get the latest Flash Player to see this video.
[JavaScript required to view Flash video. Please turn it on and refresh this page.]