Ducati UK invited me and my fiancée Lucy to the official opening of their new UK Ducati headquarters on Monday 26th September 2011.
It was a fantastic day where we had the chance to ride any Ducati bike at the amazing silverstone race track. I headed straight for the 1198s and within 2 laps I had my knee down, loving the unbelievable rush out of the corners. I have always loved the Ducati superbike range and this was an incredible experience. I then went for the Streetfighter as I thought this would be a great bike for the road – WOW! It's very comfortable and even on track with the respectable 1098 engine it went like a bat out of hell, still being extremely sure footed in the bends. It was very easy to ride fast.
This was also the first time most people had seen the Diavel. Yet again a mind-blowing bike. It was so fast I almost lost my head on the back straight, still with incredible traction control keeping me on track!
Later on that evening we visited the HQ at the official opening. The hospitality was great and the CEO of Ducati graced the UK with his presence to open the event. Not a late evening, it was an incredible day and I thank the Ducati UK team for inviting me to be part of the opening. Lets hope we get the chance to ride the 1199 soon.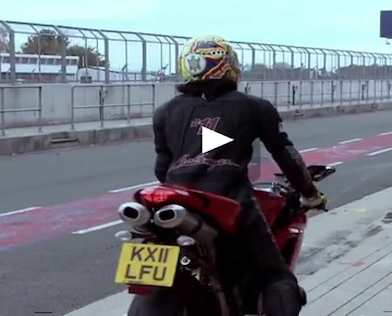 .