I was invited by my good friend Simon from Bell&Ross to Salon QP Watch Event at the Saatchi Gallery on the Kings Road in Chelsea.
I met up with my friends Charlie Stockwell from Warrs Customs, James Thompson from Black Badger jewellery, and Simon from Bell&Ross. I took out my Ozwald Boateng suit to fit in with the suited and booted crowd. What a cool event this was – I had never been to a watch event before and to be perfectly honest I didn't know what to expect. The world of watches is incredible, fine watches that looked stunning and with generations of craftsmanship. Just breath taking.
I met a lot of people but nearing the end of the evening I met Pietro Tomajer (Vice President Sales), and Eric Loth, (Founder of Graham watches) a British watch company since the 17th century. I spoke with these gentlemen and realised how much in common I had with Graham and its brand mentality.
At the end of the evening the boys and I went for meal at Benihana and had great fun. I look forward to meeting up with the lads again soon.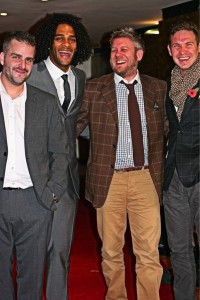 .