Sponsors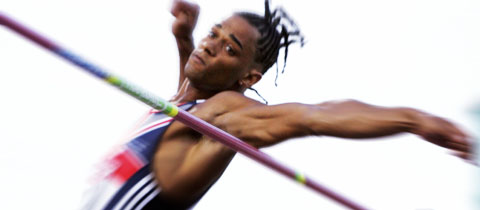 Support Ben and leave a message
I'm a professional high jumper. I've been competing internationally for Great Britain for over ten years, including at the 2000 Olympic Games in Sydney. Unfortunately injury stopped me competing at the highest levels recently, but I'm now back on form and aiming for gold at the London 2012 Olympics.
Going forward
For me, athletics is all about looking into the future: why else would I sweat and train until my lungs burn? I know the opportunity to jump my personal best – with the world watching – is one of the best feelings in the whole world. Walking into the stadium at the Sydney Olympics was one of the most intense and overwhelming experiences of my life.
I want to experience that again. My past records speak for themselves, and I'm now fully recovered from injury. I am ready to reach – and jump – new heights.
Training and competitions
I'm currently training with Yannick Tregoro. Yannick is one of the most respected and revered jumping coaches in the world, so when I received a phone call from him inviting me to train with his team, I was over the moon.
The most important aspect of athletics is to have a coach who can understand you and help hone your technique to reach the best balance of strength and speed. As an athlete who is incredibly strong and fast I need the best man to help me do this, and I believe Yannick is that man.
I started my intensive training with Yannick's team in South Africa in December and January and spent a good part of March in Sweden with them. I'm heading out to Portugal to continue working with them at the end of April, before entering the summer outdoor season.
My approach
Athletics at all levels should be about fun
What matters most to me: family, friends and fans
A wealth of experience
I have always been known for my unusual approach to life! I've been noted for my wacky hair styles, flamboyant colours and my ability to compete at a high level with a smile on my face.
I really believe athletics should be about competition and enjoyment at all levels – after all, what's the point of doing it if you don't have fun?
The most important aspects of my high jumping career have been what I call the three Fs: Family, Friends and Fans.
My family, my girlfriend and the people who I love are always there for me, both during my successes and when I have been unable to compete. Without their support and love, the dark times of injury would have been much, much harder. And of course my fans, who have always been incredibly supportive throughout my career.
A wealth of experience
These three Fs are what drive me forward to success and happiness. At the age of 31, I can now look at the few years towards the 2012 Olympics in a very different light from previous competitions. I really believe that my experience and maturity will play a large part in my achieving the right results at forthcoming competitions and games.
In recent years, our major medal haul has come from our more mature athletes, indicating that there is no substitute for experience. For example, double gold Olympic medal holder Dame Kelly Holmes is 34, and Linford Christie, Jonathan Edwards, Colin Jackson and Sir Steven Redgrave all well into their mid thirties. In my eyes, and the eyes of people in the know, these are often the best years of an athlete's career.
A self funded athlete
Self funded athlete since 2002
Exclusive personal trainer
Working with SuperSchools, inspiring athletes of tomorrow
In addition to completing all my personal intensive training on a daily basis, I also have my own sources of income. I have built up an exclusive list of clients in London whom I train on a one-to-one basis as their personal trainer. My wealth of knowledge and experience of athletics at the highest level makes me almost uniquely qualified to help my clients increase their health and fitness, and reach their own personal exercise goals.
I am also currently working for SuperSchools under the creative direction of James Loder. I am invited into schools across the UK to demo my sport, talk to the kids about how to get into athletics, and generally give motivational advice and guidance. This has been an extremely successful project to work on, and has demonstrated my love of interaction with people of all ages and my ability to inspire others.
Your support
There is no mistaking my drive, my passion or my talent for Olympic gold. My focus on the future is unwavering, and I look forward to each competition with anticipation.
High jumping is not a solo activity. I prepare and compete as part of my training team and the GB team. I always thrive with the support of a good team, and I need your help too to reach the finish line.
Support Ben and leave a message
Feel free to leave me any words of support – I'd love to hear from you. Your news and life stories have always been a great inspiration to me. You can leave a message, send me an email or find me on Facebook.
Small private donations are always welcome. You can opt to remain anonymous or leave a message on my sponsors page.
If you are able to donate larger amounts, I will send you a personal thank you, signed photos and clothing or give you a free fitness evaluation.
Large companies, banks and private or ongoing sponsors who wish to donate large sums over £1,000 please contact me to discuss how we can build our relationship.
I've achieved so much in my athletics career so far, but I'm still hungry for gold at London 2012 and need all support can get. And with your help, I believe I can do it.